Maximise your chances for a fast and lucrative real estate deal with the proper home staging techniques.
There is a castle for sale not far from my holiday home in western France. It's a nice looking castle, with great volumes and a good size land… One that should easily attract buyers. Only, it is not selling.
In the seller's mind, it is the agent's fault. While the agent blames it on the seller's price. Simply too high for what the property is really worth.
Both assessments can be true. Afterall there are bad agents, but to be fair, the bloated price tag is more often than not the real problem.
But is it that simple ?
Another reason for stagnant properties on the market, and this particular castle being one prime example, is the lack of effort put in the property to make it attractive to potential buyers.
In The Way of the Wolf, Jordan Belfort, The Wolf of Wall Street himself, highlights in explicit fashion the importance of creating a desire in order to close a sell.
Case in point:
Most of us have been on a date before. In the hope of making that date a success (and I'll let you decide upon which outcome that date can be perceived as a success or a failure) one most likely will make the effort to be at least presentable. A shower, fresh breath, clean clothes? (That's just a bare minimum by the way, not the guarantee for success!)
Well, crazy as it may sound, that bare minimum, that attempt at creating desire, known in real estate as staging, is far too often seen as unnecessary by sellers entering the market.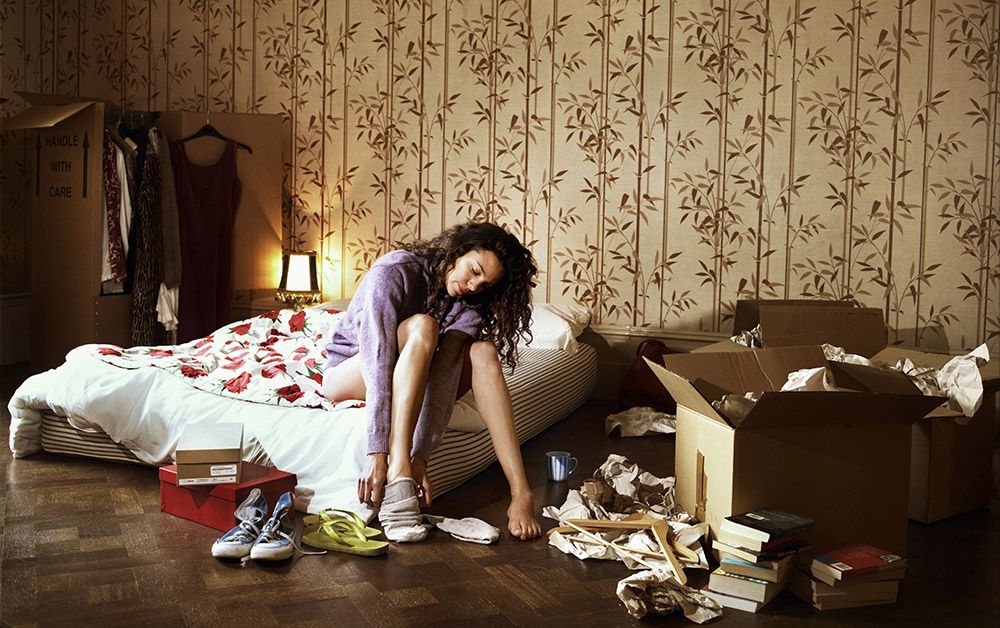 The end result is always the same. The property either does not sell, or ultimately goes for a far lower price than it should have, always to the benefit of the buyer.
As a matter of fact, the International Association of Home Staging Professionals (IAHAP) claims that a properly staged home will sell up to 30 time faster and for up to 20% more than the market standard. And according to Wikipedia, " The goal of staging is to make a home appealing to the highest number of potential buyers, thereby selling a property more swiftly and for more money."
Yet, most sellers refuse to consider home staging because it requires spending money. Spending is not the proper term. Home Staging is about investing. The kind of investment that potentially brings high monetary returns. But, as with all investments, finding the perfect equity for maximum return is key. Understand how much is needed versus overkill.
To those sellers, it is up to the buyer to imagine what the property potential could be, as opposed to them having to spend to show the buyer. What numbers have shown, is that counting of someone imagination is never a good financial strategy.
So, what are the home staging techniques for success?
" Home staging techniques focus on improving a property's appeal by insuring it is a welcoming, attractive product that any buyer can see themselves living in and, thus, desire to purchase." Wikipedia
Every home is different and so is the market it sits in. As such, there is no one solution fits all. Also, the level you are ready to invest will greatly influence what can be done.
Yet, basic home staging strategies and common sense can get you a long way.
In the following paragraphs we will lay out proven concepts that can be implemented to every home, regardless of its size or value, before digging deeper in more specific room by room scenarios.
Cleaning.

The first stage of staging is cleaning

– Almost too obvious to be mentioned, yet so often forgotten.
– We're talking real cleaning here, not just wiping a table cloth and a vacuum run.
– The devil is in the details, time to have them shine.

Fixing problems.

Fixing the minor defects of a place goes a long way. A broken cabinet door, light fixtures, broken glass, a squeaking hinge… Anything that would give a buyer an impression of a poorly kept place, creating a negative feeling, and a reason to knock the price down.

Now, it doesn't mean redoing everything, like installing a new kitchen or bathroom. We're not flipping the place, just staging. But investing on judicious repairs can help justify the asking price.

Convert each room back to its original allocation.

A two bedrooms home, should be staged as a true two bedrooms. Not a room and an office, or a room and a gym.
Most people visiting a two bedrooms home are looking for two real bedrooms.

Space.

As a rule, the more junk clutters a room, the smaller the room feels. And no-one wants to pay big money for tiny. Being able to circulate at ease through the space is better than being stuck on the edge of a room afraid to even enter.
All unnecessary items should be placed in a storage before putting the home on the market.

Closets.

Ask any real estate agent what people look for in a place, the answer is always – Kitchen, Bathroom & Storage. Usually the three most deficient assets of older properties on the market any given day.
Nothing screams "not enough storage" to a buyer than extra non built-in cabinets all over the place.
Walk-in closets should be empty and all extra free standing units removed.

Nothing personal.

It's no longer your home. It ain't sold yet, but act as if Elvis had already left the building! Potential buyers visiting the property must envision themselves creating their own stories in their future home, not peaking through yours.
Remove all personal items; photos, religious artifacts, personal collections, etc…
---
Now that we have the basics out of the way, let's go over each room and see how simple staging concepts can help a home stand out.
Entrance foyer.

As famous realtor Josh Altman of Million Dollar listing Los Angeles will tell you, "First impressions matter."
He mentions in one of his best-selling books, The Altman Close, how a recent study by the Society for Personal and Social Psychology, showed how first impressions happen in less than a second, and are based on appearances over facts. Your entry is your chance at a first impression.

Making an impression with a properly staged foyer.

See the entrance as the opening of the show, not the cloakroom!

– No clothes, no shoes, no keys, no mail, no boxes, no utility units…
– Nothing but space, art and flowers !


Utility companies have the unfortunate tendency to make their hardware overly visible so their employees can find them easily. Understandable, yet Not Chic.

– Have a cabinet maker build a small unit to hide them if not done already.

Kitchen.
As mentioned above, kitchen and bathrooms are what sells a home. This is where cleaning requested the most efforts. (In order to do so, everything inside the kitchen should have been removed. We will see what can be put back in a minute.)

Keep everything to a minimum when staging a kitchen

– Apply a fresh coat of satin paint on all walls and ceiling.
– White or off white is best as it not only makes the room brighter, but as a result larger.

Lighting
– Open all curtains, blinds, etc.
– Invest in proper lighting, select white bulbs over warm yellow.
Cabinets
– It goes without saying, that by cleaning the cabinets we meant inside out!
– If passed their prime, have someone either paint or stain them back to new.
– Fix any broken door or handle.
– Organize your cabinets in a spacious manner. You want to give people the impression that there is plenty of room in the kitchen, not the opposite.
– Take a good look at all the plates, glass, silverware, etc, you own. Pick the best matching set and replace it in the cupboard. If you don't have one, invest in a proper one. (you'll take it with you once the home is sold)
Appliances
– Fix any broken appliance, replace them if they stand out in a wrong way.
– Remove all magnets and pictures from the fridge.
Counter top.
– Get rid of everything that lives on the counter.
– Just leave a few decorative items – one , two or three depending on the size of the kitchen. Like a bowl of fresh fruits, a white orchid, a decorative silver plate, etc…
Trash.
– Always have the trash empty. Smelly trash is not a selling point !
Bathroom.

Staging a bathroom is turning it in a spa like experience.

– Did we mention the importance of cleaning ? We meant to say scrubbing !

Painting.
– Repaint the walls and ceiling. Again, neutral bright colors are best.
– The tiles look dated, paint them too.
– Redo the joints everywhere. Nothing will kill staging efforts like black stains around a tub or sink.
Just as in the kitchen, get rid of everything.
– There should only be a glass with your toothbrush and paste, and a bottle of Tom Ford parfum on the counter.
– A fresh new set of towels hanging on a proper wall rack.
– Orchid by the window optional.
– Change the shower curtain to a new one.
– Change the water appliances if they look dated or altered by limestone residue.
Bedrooms.

A slick look with nothing more than the necessary, as if you were in a hotel.

– Repaint the walls and ceiling. Again, neutral bright colors are best.
– Make it gender neutral. It means plain curtains and bed covers in tones matching the paint.
– Neither too feminine or screaming bachelor den.

Closets.
– Empty all closets and only keep the strict minimum.
– Have it hanging on a matching set of wooden hangers.
– Have lavender pouches in to make it smell nice.
Furniture.
– A bed that fits the scale of the room. No point of a king size if you can't walk around it.
– Plain and neutral ironed sheets and decorative pillows.
– A night stand with a reading light.
– A side chair left empty !
– A rug is always a plus.
– No TV, after all there are so much better things to do in bed than watch television !
Dining.

We mention dining, yet it is sad to see how often dining spaces have not been implemented in modern home design by promoters. They give you immense kitchen, but no place to eat. I digress!

Stage the dining table to show how you can entertain

If you are lucky enough to have a proper dining space, set it up as if you were about to host a diner with friends.
Use a proper matching set of plate, glasses, silver ware and linens, just as you would have for a special occasion.
It is always a plus in the buyer's mind to know they will be able to entertain.

Living room.

stage your living room to look spacious

People see living rooms as a social status. Hardly used but here to impress. So, spacious spacious, spacious !

– Like for every other room have it painted a bright neutral color. White is always the best canvas to showcase furniture and objects.

– As furniture goes, a sofa with a few decorative pillows, a coffee table with a few display books, and an armchair on the side. All sitting on "a rug that ties the room together !" as would say the Dude.

– As a designer I would argue that televisions should always be hidden. But if you must have one out in the open, make sure no wires are visible.
The day of the visit.
Make sure it's not only clean, but that it smells good. Lavender is best. Have fresh flower bouquets placed strategically in the living room and bedrooms.
Have fresh water or soft drinks available in the fridge, as well as some cookies on the kitchen counter for the agent to offer your visitors. Get out and let him work his or her magic !
---
For best results, hire a professional
Now. It goes without saying that if dealing with prime market properties, your staging strategy will require a professional as oppose to those DIY tips, no matter how sound they may be.
In such cases, it is essential to not only project an image of excellence, susceptible to please some of the most demanding buyers, but also differentiate from the rest of the pack without alienating anyone.
This is where our design resources and experience, combined with our real estate acumen, will help you achieve the right staging formula for a uniquely sophisticated look.
Whether you are a private seller or a high-end real estate firm, call us and let's see how we can make it happen for you.
---